A post about where and how to collect data on quadruple jumps and skaters attempting them.
If you have not read it already, there is a little introduction about how this all started and developed.
I collect data on skaters who have attemped quadruple jumps and on the jump attempts in competition. The aim is to create statistics and analyse them to understand how things started, developed, and where we are now, 40 years after the first known quad attempt in competition.
1 Work Process over the Years
Data on both skaters and jumps go hand in hand and they can mostly be found in the same places. The first phase was based on my interests in Javier Fernandez (ESP) and gradually grew to cover more and more individual skaters. The data was picked up from several online databases – more about them below. Some data could be found online in the results sections of ISU competitions or those of national federations. I also used other resources such as the Wikipedia pages of the skaters to check whether all their competitions were included in the results databases. This was mostly a fairly random collection of skaters and their jump history.
When I moved onto phase 2 and started collecting names of skaters, the same databases were useful to begin with. Trying to figure out the early part of the Quad Era from the 1980s to the early 2000s is somewhat challenging. No proper records exist apart from lists of some ratified firsts and jumps from the 1990s. This meant loads of internet searches and trying to find sources discussing the early stages of quadruple jumps.
Competition videos have been a vital resource in trying to catalogue the pre-IJS jumps. There are also some websites that still keep rinkside reports by fans from the 1990s (Frogs on Ice and Figure Skating Corner have both stopped working since, Ice Skating International exists for the time being) which have also been very useful. This part also included The Golden Skate discussion forum where many people helped with the initial work for which I am eternally grateful!
The current judging system (IJS) with its score sheets was first introduced in the 2003–04 season, although the major championships that year were still judged using the 6.0 system. IJS means detailed score sheets where every element and its scoring were listed. The results are also often collected into complete protocols detailing all the events of a competition. The ISU and national federations maintain results webpages for many competitions, so you often have access to the originals. The bigger the competition, the likelier it is to find the score sheets.
However, the internet is not always forever and many results pages with the scores have disappeared for various reasons. Sometimes the relevant score sheets have not been uploaded at all. The situation is sometimes poor for the first decade of the IJS, but things have gotten better since. It is also fortunate to have databases which started quite early and have had access to results that are not available anymore. Data from domestic competitions is still somewhat problematic, but there are different ways to approach that problem. Knowing a few languages also helps.
2 Results Databases
I have used these databases which all have their good and bad features. It is important to remember that none of these sources include all the data and that it is necessary to check each one for each skater and competition!
This really blew my mind when I found out about its existence. It is super simple looking, no fancy statistics etc. No registration and completely free to use.
It contains the results of international junior and senior competitions as well as Japanese nationals. The score sheets have been transferred reliably, the only problems are maybe some different transliterations of names (Russian ones in particular) and abbreviations of competition titles which can be the same for different competitions. But these are minor things.
The best thing for me is the possibilities for searches. You can search by gender, skater, season, element, or by combinations of these. The outcome is a simple of list, but when you are looking for all the quad flips in the IJS period or in one season or by one skater, you will get them in a fraction of a second. Searches in this database form the backbone of my skater and jump lists. The interface has enough English to make it easy to do the searches, but all the error messages are in Japanese.
This is also a results database with a slightly fancier interface. No registration and completetly free to use.
It contains the same international competitions for seniors and juniors as the FSES and Skating Scores, and a massive number of results from domestic competitions from around the world. Novice and juvenile competitions are also included.
I would recommend this one for easy access to, for example, Japanese and US domestic scenes. Not to mention most European countries! Just don't expect to find a lot of Russian and Canadian results (maybe one day?). You can search by skater and competition, but also check up on judges. It is also possible to produce simple lists of highest scores for TES, PCS, totals, etc. This is my go-to database for getting a very good idea of whatever a skater has achieved in their careers from juvenile to retirement.
This database is fairly recent, but they have done a great job in adding data very quickly. No registration and completetly free to use.
It includes international and national competitions for seniors and juniors. It has also a fantastic metadata section listing all the competitions included and what is missing! Gives you a good general idea what is available in general.
Not that great search possibilities – they revolve around skaters and competitions. Its specialty are the various statistics which are produced automatically for each skater. Also, statistics for judging in competitions – a great way to follow what those pesky judges are doing and how they are underscoring your favorites. For collecting data not very useful, but if you are not interested in analyzing the data yourself, this is a great resource.
This is a database you have to pay for – the annual costs are not very high, but if you are not in need of their specialty data then the three databases mentioned above will be more than enough.
This contains the same international senior and junior competitions, but also quite a lot of domestic data (US particularly and even some Russian data). Probably the best collection of 2000s and early 2010s Canadian results in one place.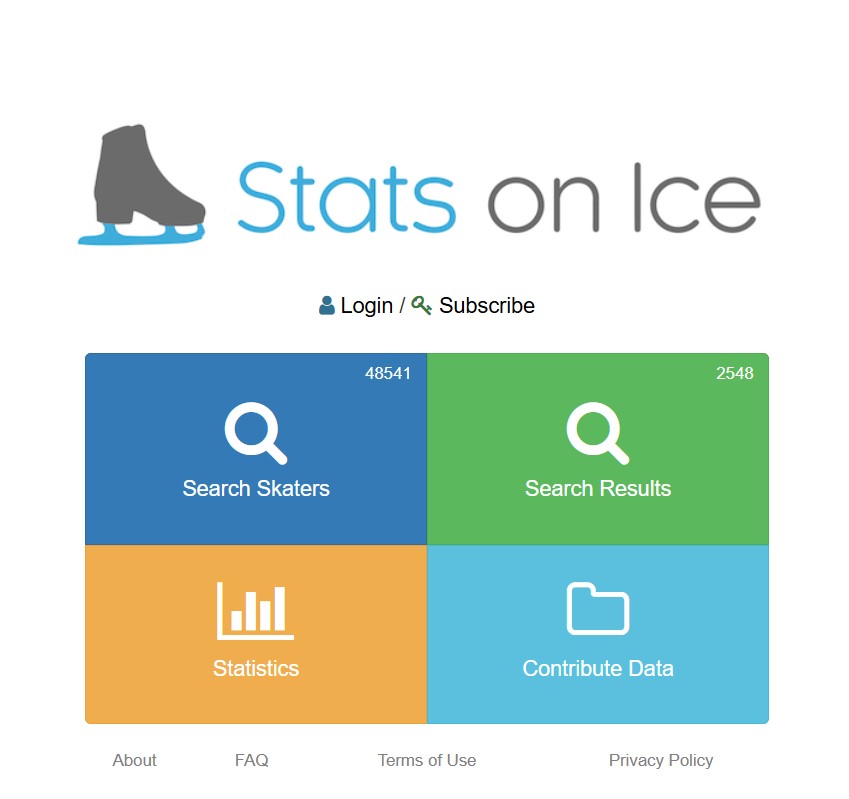 Not the handiest of search possibilities – skater and competition mostly. The automated statistics are focused on suggestions for skater improvement. I got it to get certain bits and pieces, but overall, perhaps not worth the money unless you have specific results missing elsewhere in mind. I just checked (January 2023) and the results for the most recent seasons have not been entered (ends in March 2020).
As hinted above, Canadian domestic data is hard to find. They apparently use a different system to display and publish results (compared to the ISU standard that is) and so the databases collecting results would need a different protocol to enter the Canadian data. Or do it manually. This site holds quite a lot of results from Canadian domestic competitions, especially from the most recent seasons. Registration required, but free to use.
It is not very handy, you must start by searching for a skater, but then it is possible to find competitions and the same competition in consecutive seasons. Quite a lot of competitions have been entered, so it seems to represent the Canadian scene quite well.
This is a Russian site with apparently a very ambitious aim to include literally all skaters. When I first started to use it fall 2021, it was mostly just Russian skaters, but they have been adding data from other countries very quickly. No registration, free to use. If you really want to get into this, it is good to know Cyrillic alphabet and maybe how Russian is transliterated to Latin alphabet. You will learn the relevant vocabulary soon enough..

It is a combination of result lists, links to results sites from competitions, and lists of skaters with their competition results. Some personal data as well. No search possibilities though (or maybe yet?). You can find the skaters by their nationality on the front page. Russians are also listed alphabetically, both in Latin and Cyrillic alphabet. Competitions are also listed chronologically with links to the results pages if they exist. For the most recent seasons, these also include competitions outside Russia, domestic and international ones organized by country.
The major thing are the results from the massive Russian scene organized into regional and national ones, with Moscow and St. Petersburg events listed separately. (Interestingly enough, Belarus and Ukraine are listed among the Russian regions.) The score sheets use the ISU standard, so that part is easy. There are gaps even here – not all results have been uploaded and results sites have disappeared since making the links.
3 Data Evaluation
When anyone interested in data is facing a collection of some kind of information, they should ask questions, perhaps most importantly: what does it represent? Is it a sample? How was the sample collected? What was included and what was not included? What might be missing? This is important, because the reliability of your analysis results and interpretations depends on how good your data is.
Because no one has done this before, I try to evaluate my own data and be as ruthless doing it as I possibly can. If you have any suggestions to changes, additions, have corrections etc., please let me know!
My sources were explained above. But what was included in my lists for skaters and jumps?
The jumps list for the IJS era is based on score sheets and every jump that has been deemed by the technical panel to be a quadruple jump has been included. It does not matter if it is downgraded (<<) or underrotated (<) or these days marked with q for being almost acceptably shy of fully rotated.
There are bound to be mistakes and missing jumps because of missing score sheets or me missing a jump when going through a score sheet, etc. The domestic results I am doing manually and have not double checked my work (there are far too many of them). I have tried to get the jump type and the additional data with it (for example, 4Lz!q) correct. The base values are easy enough to check and I have tried to correct blatant typing errors for GOEs (like a comma in the wrong place: 14,5 instead of 1,45) and mistakes in positive/negative scores, but there can be any number of them. The final value is calculated automatically by the spreadsheet based on BV and GOE. I also tried to figure out how much data is missing for each skater.
The jump list for the 6.0 era is put together using rumors, news reports, rink side reports, lists of jumps found in the web, and checking hundreds of videos. These are all unofficial, unratified, and probably include all kinds of mistakes. It is sometimes quite hard to determine what is a quad based on grainy competition videos shot from wrong angles. Commentators help sometimes as they mention what to expect even if the result is a pop and what they have seen in official practices and so on – but they also make mistakes.
I checked what the skater was doing before the season they were certainly jumping quads and after the last known quad if it did not happen during their last season in competition. The data is patchy for most skaters, and I decided to include all their known competitions and make notes on whether there was any information available to get an idea how well each skater's jumps were documented. Then I also started to estimate whether the missing jump might be a quad or not depending on what they were doing that particular season on a regular basis. If there were plenty of quad attempts, then it was deemed a possibly missing jump.
The skater list is based on two kinds of data. For the pre-IJS era, I have used any piece of information, be it video, interviews, quotes from autobiographies, even rumors. The jumps in competition started in the early 1980s, but I have also tried to catch those who might have tried them in practices and maybe even shows. The aim has also been to see how many dreamed of quads long before they became business as usual.
The second data set is based on the IJS score sheets – easy enough to verify attempts and successes and even create statistics for most skaters. These days video clips circulating in the social media also show a bit of what happens outside competitions. And I have also tried to collect the skaters who practice but have not tried to do a quad in competition. Even for the IJS era, the list includes those whose quadruples can be verified by score sheets and those who trained or tried, but never got them to work well enough to try in competition.
The aim is after all to see how many had ever even tried. It is unrealistic to think that everyone could be included – Kurt Browning has said many times that he trained his quad in strict secrecy for some time, and I am sure there are a lot of skaters who have done the same. But the ones that have reveled their training process do give an idea of how many might try and never make it.
The more than 13 400 jumps from the IJS era represent a pretty good sample of all the quadruples attempted since fall 2003 until the summer of 2023. The list with almost 600 skaters is also a good sample of how many try. The list for the 6.0 era jumps is the most problematic one, but still probably represents what was done relatively well.
Overall, I would estimate that most of the missing data is from the first decade of IJS. Most of the big and medium international competitions are covered by online archives and databases even for the earliest times, but information from smaller international and especially domestic competitions is not so readily available. Domestic competitions were judged using the 6.0 system for a few seasons after 2004–05 when all international events used IJS. The qualifying series leading to the US nationals is relatively well documented from the 2005–06 season onwards, but the score sheets for the Cup of Russia series (not the international competition!) are available only for the past decade or so. The most significant national championships missing are the Chinese ones from the late 1990s to around 2010.
How many jumps are missing is a difficult question to answer. There were relatively few skaters jumping quads in competition before the late 1990s and the data even from that time is likely a representative sample of all that went on. Although, it should be noted that landed, clean jumps get remembered, but bad attempts not always. Jumps in the last two warm-up groups might be noted, but a quad ending in a fall from an earlier skater does not get much attention. Domestic and small competitions were sometimes maybe used as trials for inserting quads into programs. My rough estimate for the 6.0 era is some 450 jumps and for the IJS maybe a little less, altogether give or take 500 to 1000 attempts.
The last couple of seasons have been the only ones when I have really needed to check almost every result sheet from domestic novice and junior competitions to the Olympics. Never before have quads been so widely attempted at all kinds of competitions and so may guys in almost every age group. Documenting them is getting harder!
The results of all this work will be published soon!